Play All


1. John 14:1-3 (4:03)


2. My Heart is Fixed (19:53)


3. Tis So Sweet to Trust in Jesus, first and last verses (3:22)


4. If You'll Trust in the Lord (3:36)
Selected Verses:
Psalm 108:1-5.  O God, my heart is fixed; I will sing and give praise, even with my glory. 2Awake, psaltery and harp: I myself will awake early. 3I will praise thee, O Lord, among the people: and I will sing praises unto thee among the nations. 4For thy mercy is great above the heavens: and thy truth reacheth unto the clouds. 5Be thou exalted, O God, above the heavens: and thy glory above all the earth.
Opening:
God "will not suffer you to be tempted above your ability."  But it means He will—and He always has—suffered the children of God to be tempted, because that's the only way in which our hearts can be fixed.  We have certain people in the church today—I mean in the church at large—who are fixed concerning divine healing.  Elder Brooks was like that: he was fixed.  And how did he get fixed?  Well, he got fixed. 
And Elder Brooks needed fixing.  When he came to know about divine healing, he was a big preacher—he knew everything.  But he was sick unto death.  He was really a sick man.  He was 45 years old then, and he came to the meeting of Dr. Dowie in Chicago.  He'd heard about divine healing, so he came all the way from Ohio, where he had a ministry, to Chicago.  And he sat there in his civilian clothes, and Dr. Dowie was firing away with all his Gatling guns.  He was firing against…  He had a sermon about "Drugs, Doctors, and Devils."  I thought that was awfully radical until I read the sermon.  And I said, "Well, that man's got something:  Drugs, Doctors, and Devils."
It's a strange thing how people will trust in drugs and they'll trust in doctors rather than trust in the Lord who said, "I am the Lord that healeth thee."
…
Selected Quotes:

And [Elder Brooks] said, "Doctor, how about the man that was born blind?"  And that gave Dr. Dowie ammunition.  He said, "There you are!  'Tain't the saloon keepers, 'tisn't the backslidden church, but it's the preachers!  They destroy the work of God!"  And then he handed it out to him for a half an hour.  He just kept aiming at Elder Brooks and giving it to him.  I tell you, Elder Brooks got sore.  He lost all the sanctification he ever thought he had.  He did.  He was so mad he could have jumped at Dr. Dowie.
…

God sent someone up to him, into his bedroom and said, "Elder is to get up and come down for dinner and eat a good meal…"  Well, he had learned to obey God: his heart was fixed… fixed on the word of God…  He said with every step, his pains lessened, and by the time he got down to the table he had a ravenous hunger, and he was healed."
…

Talking about divine healing, he says, "If Christ is in you, the body is dead because of sin."  It means that this body is still a body made of dust.  What am I going to do?  I'm tempted, I'm tested.  But "the Spirit that raised Jesus from the dead…"  Did He raise Him from the dead?  He did!  He raised Him.  That was not the end of His job.  He's got a job to do in your body.
…

Beloved, my heart must be fixed upon this foundation: Jesus Christ has undertaken, and He takes over, thank God!  And when He undertakes, everything is different.  And how does He undertake?  Not by giving you a shovelful of aspirin tablets when you're sick.  No, but by pouring His life-giving Spirit upon you.
…

I don't talk about my illness or my feelings because it only stirs up trouble—makes things worse.  If you can talk to people that have faith, that's OK.  But usually people: "Is that?  Oh, my!"  And they make it worse: "You've got to be careful.  I tell you, you've got to be careful.  You can't fool with this thing."  God didn't fool either.  But oh, thank God, my heart is fixed!
…

When I sat behind a minister in Germany, he was saying, "Oh, if we only had—."  I said, "We have!"  "If we only could—."  I said, "We can!"  "If we only did—."  I said, "We do!"  For goodness sakes, where do you live?  "He that hath wrought us for the selfsame thing is God."
…

Last night, I was a little bit stumped after that wonderful meeting to hear people hollering outside.  I said, "Cut their heads off and they'll still be talking fifteen minutes after that."  Of course, they won't make that noise.  Here in the meeting—I don't bet, but I betcha—they didn't open their mouths to say, "Hallelujah."  But as soon as they got outside, they can yell.
"Awake up, my glory."  That's what my glory is for—my tongue—to glorify my God.  And oh, what a blessing, what a contact I have when I praise the Lord!  How many times we've been healed when in the worst testing we praised the Lord.
…
Illustrations:
The woman who decided that "Selah" means "Smile."  "I smile at all my foes.  Praise the Lord!" (from 5:44)
The example of Dr. A. B. Simpson.  "Dr. Simpson not only was healed.  He said his body was still weak, but Christ rose up within him and lived within him." (from 13:04)
German at 1:49:
Ich bin der Doktor Eisenbart,
Kurier' die Leut' nach meiner Art,
[Kann machen, daß die Blinden geh'n,
und daß die Lahmen wieder she'n.]
Oh, I am Dr. Eisenbart
I'll cure your ills with healing art.
[Now, I can make the dumb to walk,
The lame to see, the blind to talk!]
References:
Dr. Dowie: John Alexander Dowie (1847-1907), evangelist, and founder of Zion, Illinois.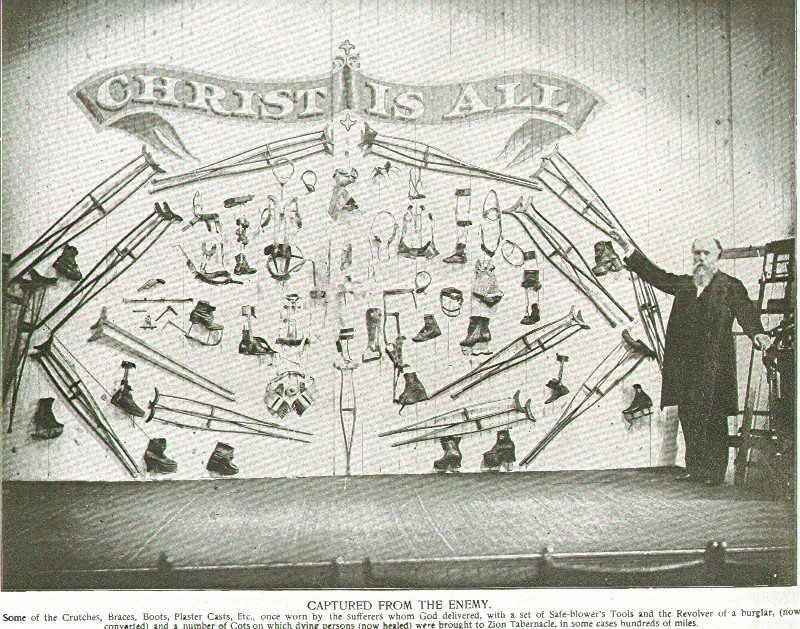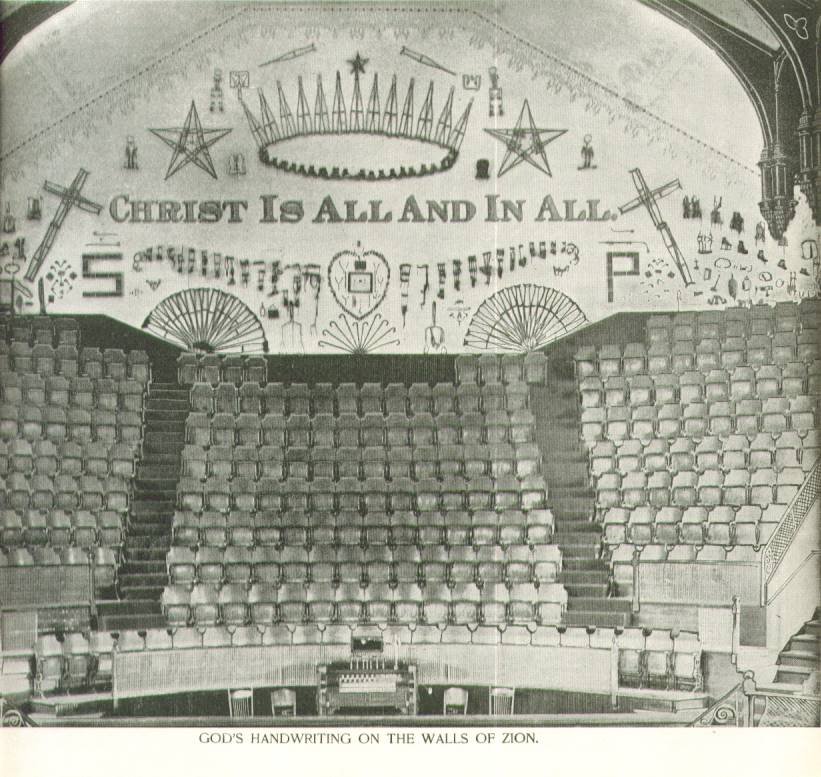 Audio Quality: Poor
More Information...
Project Notes:
Original tape marked (#29).  See project notes for 15A.  A number of pauses were shortened, and stutters removed.  "He kept aiming at Dr., Elder Brooks" was changed to "He kept aiming at Elder Brooks."  "And when…  and how does He overtake?  How does He undertake?" was changed to "And how does He undertake?"; "He said he couldn't step… he couldn't climb three steps" to "He said he couldn't climb three steps."
The song titles "John 14:1-3," and "If You'll Trust in the Lord" are not authoritative.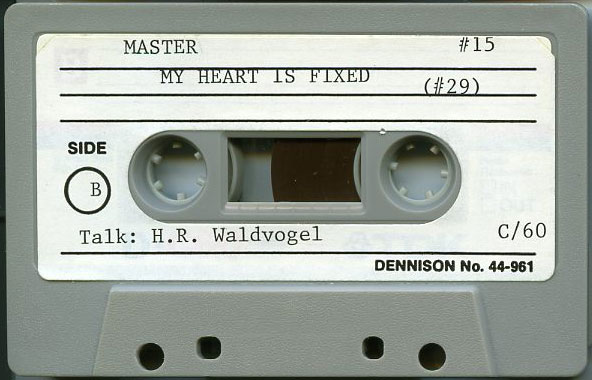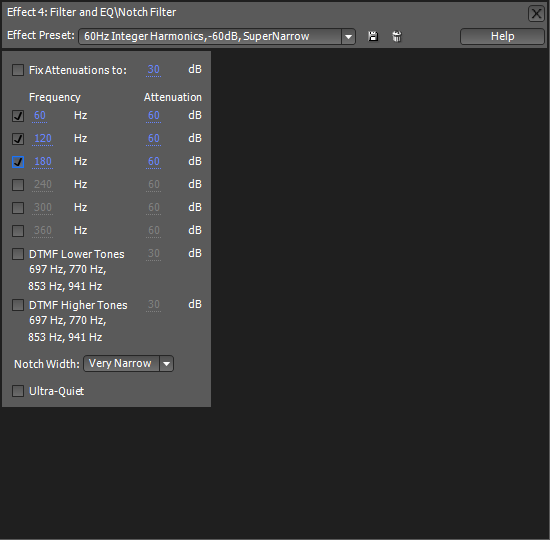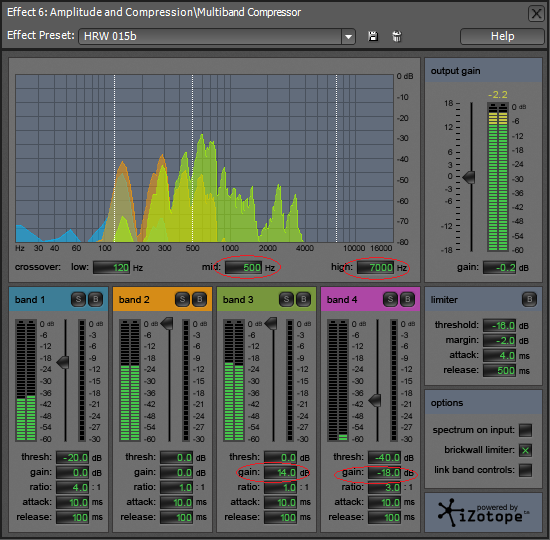 Project Files:
The original media and project files are available upon request.