Play All


1. He Lives, excerpt (2:13)


2. Jesus, the Joy of Loving Hearts (2:31)


3. Jesus Manifesting His Presence (25:07)


a. Message (9:15)


b. Praise and worship (6:08)


c. Comments on praise - "learn by experience" (4:49)


d. Tongues and interpretation (4:55)
Selected Verses:
John 14:21.  He that hath my commandments, and keepeth them, he it is that loveth me: and he that loveth me shall be loved of my Father, and I will love him, and will manifest myself to him.
John 16:22.  And ye now therefore have sorrow: but I will see you again, and your heart shall rejoice, and your joy no man taketh from you.
Hebrews 11:1.  Now faith is the substance of things hoped for, the evidence of things not seen.
Opening:
The glory of the Lord is here.  Why is the glory of the Lord here?  Why, because there's somebody here that loves Jesus and likes Him to be around.  Glory to God!  And that wonderful promise of Jesus is fulfilled.
What a difference there is.  When my sister and I got into Pentecost, we often spoke of it: "My, what a difference!"  Sister Shilley speaks of it: "What a difference!"  We used to go to church, thank God for that.  It was quite wonderful, but what a difference when we came to Jesus, and He came to us, and He really got hold of us, and He really revealed Himself to us!  And that's what He means, and that's why a meeting like this must be different. 
If there are only two here that really want the Lord—really want Him bad enough for Him to manifest Himself—His heart is full of joy.  Why, you remember how He said to His disciples, "You now have sorrow, but I'll see you again"—that's a wonderful word—"and then your heart will rejoice, and your joy nobody's going to take from you."
…
Selected Quotes:

"That which is visible is temporal, but that which is invisible is eternal."  And while Jesus Christ came in the power and Person of the Holy Ghost after His resurrection, He didn't mean not to be recognized.  He meant to manifest Himself much more powerfully, much more mightily than He was able to do when He was visible.  And that's the joy He says "no man taketh from you."
I suppose I've been one of the happiest persons in the whole world now for fifty years since Jesus came—really came to me, because I don't care for anything in heaven or on earth but Jesus.  And He never disappoints me; that is the wonderful thing.  He's always with me and always within me.  And no matter how the storms howl, and no matter what conditions are like, and no matter what people will do and say, there is a hiding place in the Lord Jesus Christ which He spoke of to Thomas.  And you know Thomas said, "I won't believe unless I can put my fingers in His nail-prints.  I want tangible proof of His resurrection."  And Jesus gave him that proof, but He says, "You're a foolish boy.  Blessed are they have not seen and yet have believed."  And Peter learned that lesson: "Whom having not seen, ye love."
…

Some of you high school students study biology.  You don't know anything about biology until you know something about "the inner man"—this wonderful creature which God calls "the temple of the Holy Ghost."  And Jesus Christ really takes possession of this temple, fills it with the power of His resurrection.
…

Somebody said to me, "Do you really see the Lord?"  I said, "Certainly.  I couldn't live this life at all if I couldn't."  Oh, my Lord and my God will "anoint our eyes with eyesalve."  That Holy Spirit who is here tonight is God Himself—the Living God, the resurrected Son of God.  And He's got power "to subdue all things unto Himself."  Let us open the gates of the temple tonight and really let Him—this present Savior—have His way.
…

But tonight, there is a breakthrough.  Wherever a heart opens and a mouth opens to praise the Lord in the Holy Ghost there Jesus Christ constitutes a breakthrough.  He breaks through the clouds and through the fogs, and He comes manifests His presence.  And that's what I mean when I say we should learn by experience.
…

I know the devil don't like it—he never did.  But oh, Jesus likes it, glory to God, hallelujah!  He produces this praise Himself, and oh the change that comes into your heart when you really become transparent—when you become a vessel, "sanctified and meet for the Master's use," when you learn that you don't belong to yourself but to Him!
…

Let your mouth burn, first of all.  That's the worst thing about you.  Let you mouth really be "a living sacrifice," and say, "Hallelujah! Praise the Lord!"  And when you do that, you're not doing it alone: the Holy Ghost will take over.  There will come a breakthrough.  Oh, how Jesus Christ is standing at the door and knocking and seeking a breakthrough.  And what does He want?  Why He says, "If you'll hear My voice and open the door, I will come in, and I will sup with you and you with Me."  There will be holy communion.  There will be an exchange of life: Jesus pouring His life into you, and you pouring out your worship to Him.  And oh, there that union is established between the invisible Son of God and the visible Church.  "In the midst of the Church will I sing praises unto Thee."  And the Father in heaven takes notice of it.
…
Audio Quality: Good
More Information...
Project Notes:
Original tape marked (77) C/60.  Side A was slowed to 102.5% of its original duration; light hiss reduction, DeHummer -30dB, 8 filter, at 58.25Hz, and compression.  The speed is again uncertain.  After editing, it was determined that the original speed was preferable, and so the edited recording was sped up to 97.561% of the edited duration.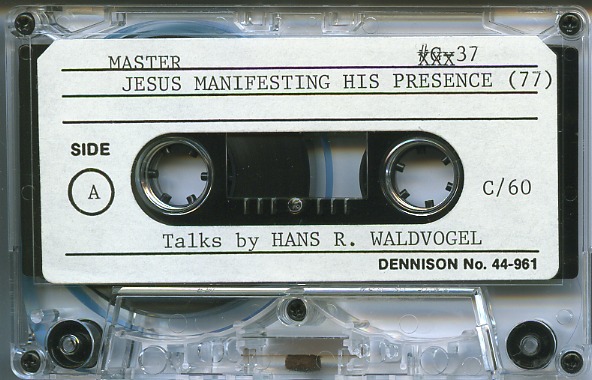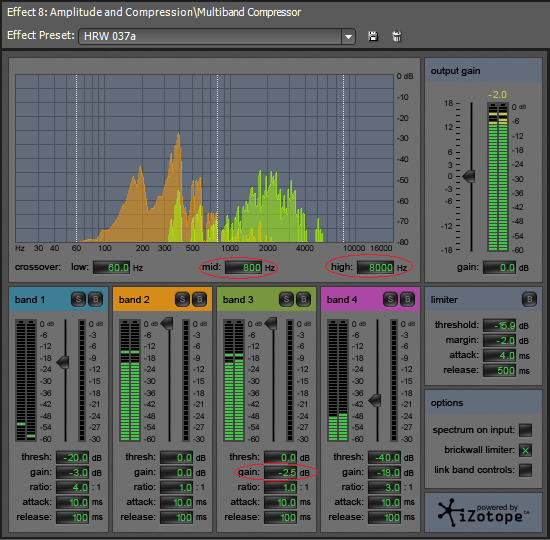 Project Files:
The original media and project files are available upon request.