Play All


1. The Battle Hymn of the Republic (5:05)


2. Grace of God (18:05)


a. Tongues and Interpretation (0:37)


b. Message (17:29)


3. Jesus, Only Jesus (2:32)
Selected Verses:
Ephesians 2:8.  For by grace are ye saved through faith; and that not of yourselves: it is the gift of God...
Titus 3:5.  Not by works of righteousness which we have done, but according to his mercy he saved us, by the washing of regeneration, and renewing of the Holy Ghost.
I John 1:9.  If we confess our sins, he is faithful and just to forgive us our sins, and to cleanse us from all unrighteousness.
Malachi 4:2.  But unto you that fear my name shall the Sun of righteousness arise with healing in his wings; and ye shall go forth, and grow up as calves of the stall.
Opening:
(…)  "Something depends on the way you walk upon, and if I am the Way, why then you're surely going to reach your goal.  And if you'll follow Me wherever I lead, I'll take you from glory to glory, from step to step, and from day to day.  And there will never be any retardation: there will be a going forward until you reach that wonderful city of God."
I've had a strange privilege when I lived in Chicago to hear some of the world's great, famous preachers, one after the other.  But I don't remember what they said, except a few sentences.  And one of them was F. B. Meyer, a German who wasn't satisfied with Germany; he went to England.  But anyway, he found the Lord.  And when I heard him, he was 82 years old, and he came to Chicago.  And the only thing I remember about his sermon was this: he said, "I'm thankful to God that He allowed me to be born a sinner."  That was a strange statement.  He said, "If He hadn't, I would never have learned to appreciate the grace of God."
"By grace are ye saved."  Anybody's going to be in heaven is going to be there by grace, "not by the works of righteousness which we have done," but quite the opposite.  You remember the song they sing: "Unto Him that loved us and washed us from our sins in His own blood…"?  Oh, rally 'round the flag!  Here's the wonderful flag of salvation.  Hallelujah!  Glory to God!  And if you don't know that song, you ain't going to heaven.  But if you're the sinner that's the blackest on earth, you've got first chance to get in there.  "Though your sins be as scarlet…" 
The trouble is people don't like to admit it.  But, "If we say we have no sin, we deceive our self"—we fool ourselves.  And, "If we say we have not sinned, we make God a liar," who Himself had to "be made sin for us," to deliver us.  Oh, wonder of wonders!
…
Selected Quotes:

Oh, that fear of God that made Paul tremble, and say, "Wretched man that I am, who shall deliver me"—a righteous Pharisee—"from the body of this death"!  Oh, that fear of God that made Isaiah cry, "Woe is me, I'm undone!  I'm a man of unclean lips, and dwell among a people of unclean lips"!  Did you ever confess that?  If not, you still have unclean lips.
Beloved, "if we confess" not somebody else's sin but "our sin…"  That's the change; that's the difference.  Jesus Christ is not going to compromise with those who preach their own righteousness, and boast of their own righteousness and their own self-righteousness.  But oh, "if we confess our sins, He is faithful and just…"  He's got a job to do—a wonderful job that no one else can do.  Moses gave us the law that condemned us, "but grace and truth came by Jesus Christ."  Oh, the "abundance of grace and of the gift of righteousness"!
I wonder why we don't make a beeline for it—for His righteousness.  I wonder why we don't make a beeline for the resurrection power of the Son of God when He is willing and able to manifest it day by day.  I wonder why we still allow sin to have its way in our hearts, in our tongue, in our minds.
…

They sobbed, they wept, they cried.  They cried for forgiveness of their sins.  It wasn't a "sin," it was just the neglect of the intimacy with Jesus, that lovership of Jesus, without whom we "can do nothing."  We can't take a breath without Him, and we don't have to.  "Christ in you" is "the hope of glory."  Here's a new man.
…

That's the secret that the Jewish nation did not appreciate because they thought that by their own works they could make themselves the chosen people of God.  "But ye are a chosen generation, a royal priesthood, a holy nation, a peculiar people that ye should shine forth the praises of Him that has called you out of darkness into His marvelous light."
…

Anybody here that doesn't know that You're here, Jesus?  Anybody here that hasn't spoken lovingly to You?  How dead they are!  How dead!  Anyone here that hasn't breathed in that heavenly atmosphere that is blowing from the very throne of Almighty God, wherever the Holy Ghost is poured out?  Beloved, what is the matter with us?
He comes!  Oh, my Lord, how many years do You have to knock?  Oh, Jesus, I thought I was seeking you, and I found out that you were seeking me—You were wanting me.  You saw that I was lost.  "He saw me plunged in deep distress and flew to my relief."  He says, "Without me you can do nothing; why do you try?  You can't even think a good thought without Me; you don't have to.  You can't speak a decent word without Me; you don't have to."  Beloved, they talk about "deep life Christianity."  There ain't no such a thing: there's only one life and that's Jesus.  He is life.  And thank God, "He comes to make His blessing flow far as the curse is found," and wherever I find the curse.  And I found out my whole being was under the curse.
…

I wonder how the Apostle Paul became so gentle, so loving, so kind, so humble, so filled with the love of God.  And how was he able to tell the others, "Now let this mind be in you;" "Fulfill my joy, that ye be likeminded, having the same love"—the comfort of Christ?  "Let this mind be in you."  Now, how do you dare—you who killed the Christians, caused them to blaspheme?  What made the change?  It was that "Sun of righteousness that arose with healing under His wings."  And he allowed it to shine upon him until he couldn't see anymore—couldn't see the natural sun anymore.
…

Oh, expose yourself to that Sun all the time, all the time.  Faith is contact with Jesus, "Whom having not seen ye love, in whom though now ye see Him not, yet believing, ye rejoice with joy unspeakable and full of glory…"  And "Though if need be, ye are in heaviness through manifold temptation"—you've got to have that negative fully developed and fully fixed.  And you've got to know what you're like by nature, and in yourself.  And then… that heaviness will turn into "joy unspeakable and full of glory" when you behold Him and His beauty.
…
Illustrations:
An illustration of the power of God breaking through at a Bible school.  A more complete version of this story can be found in sermon 12B, starting at 11:44.  "They all confessed that since they came to Bible school, they had forsaken their first love." (at 07:18)
From this point to the end of the sermon, HRW elaborates on an illustration from his early experiences with photography.  "I found out that I had to make a positive out of the negative.  And, I tell you, when I discovered that, I was looking for the sun!...  I took that copying frame, you know, and I stuck it in the sun…  I needed the sun…  'The Sun of righteousness shall arise with healing under His wings,' and when that Sun shines upon you, you're healed.  Right in the place where the curse is found, there, thank God, the grace of our Lord is 'exceeding abundant!'" (at 11:06)
German at 11:43:
Schwob, that is, Schwabe — a Swabian.
Sauf bruder — "drinking buddy."
"Isch jo nix druff," that is, "da ist ja nichts darauf" — "There's nothing on it."
References:
Joy to the World, a hymn by Isaac Watts:
No more let sins and sorrows grow
Nor thorns infest the ground;
He comes to make His blessings flow
Far as the curse is found.
The New Song (With harps and with vials), a hymn by Arthur T. Pierson:
With harps and with vials, there stand a great throng
In the presence of Jesus, and sing this new song:
Unto Him Who hath loved us and washed us from sin,
Unto Him be the glory forever, Amen.
Majestic Sweetness Sits Enthroned, a hymn by Samuel Stennett:
He saw me plunged in deep distress
And flew to my relief;
For me He bore the shameful cross
And carried all my grief.
Bachenbülach, HRW's home town in Switzerland: "…that whole great big town of Bachenbülach."  During his childhood, the population would have been less than 600.
Audio Quality: Fair
More Information...
Project Notes:
Original tape marked (24).  Some stutters were removed.  The title "Jesus, Only Jesus" is not authoritative.
Based on the frequency of the 120Hz hum, the sermon 13a was resampled, slowing it to 101% of its original duration.  13a has a very large amount of background hum, and 13b is even worse.  The audio was then de-hissed, and the all the iterations of the limiter threshold produced.  A different setting of notch filters was used.  Previously the harmonics did not include 120Hz.  See the notch filter image below.  Starting with 13b, there are 15 iterations, the first ten setting the limiter threshold from -2.0dB, down to -20.0dB in steps of 2dB.  Then, maintaining the limiter threshold at -20.0dB, iteration 11, has the input gain boosted by 2.0, 12 to 4.0, 13 to 6.0, 14 to 8.0, and 15 to 10.0.
A review of this recording in May, 2010 did not suggest any necessary revisions.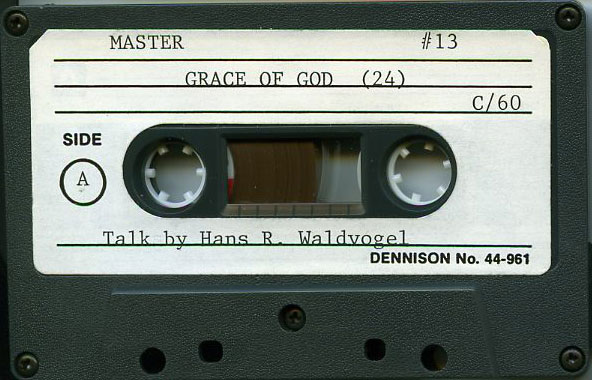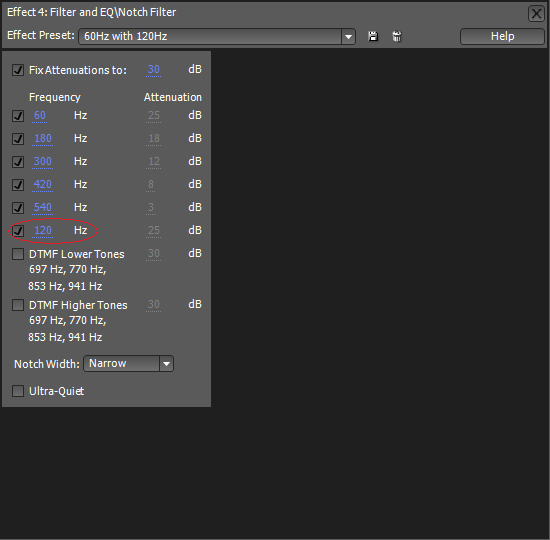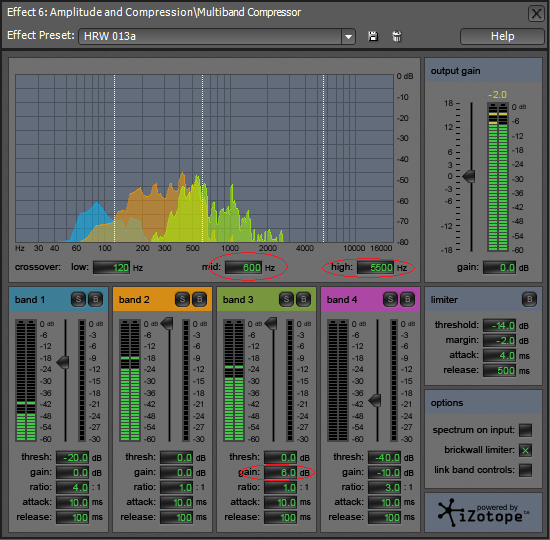 Project Files:
The original media and project files are available upon request.